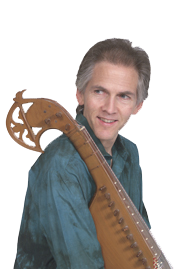 Todd Green began studying guitar at the age of ten. He has been writing and performing his own music professionally since the age of fifteen. He studied composition and arrangement at Berklee College of Music, in Boston, Mass. At the same time he was studying privately with Mick Goodrich, jazz guitar legend at New England Conservatory of Music, Pat Metheny, Grammy Award winning guitarist and George Benson, international recording star. After spending five years in Boston, he moved to New York City where he performed with the top echelon of studio musicians and toured with bands throughout the United States, Canada, and Europe.
While in New York, he began studying Western Flute, East Indian Bansuri Bamboo Flute (with Steve Gorn), and Tablas (Indian hand drums) with Ray Spiegel. At the time that he relocated to Western Montana,Todd decided to stop playing the electric guitar and concentrate on acoustic music. After spending 10 years there his next move was to Northern Nevada near Lake Tahoe where he has lived since 2001. Recently the electric guitar has reappeared and, as of the Fall 2012 concert season, will once again be part of his musical landscape.
Todd now performs nationally as a multi-instrumental solo artist in the college and fine arts markets. Frequently, along with his concerts, Todd conducts college master classes and interactive school clinics and assemblies. His columns on improvisation have been published in Fingerstyle Guitar Magazine.